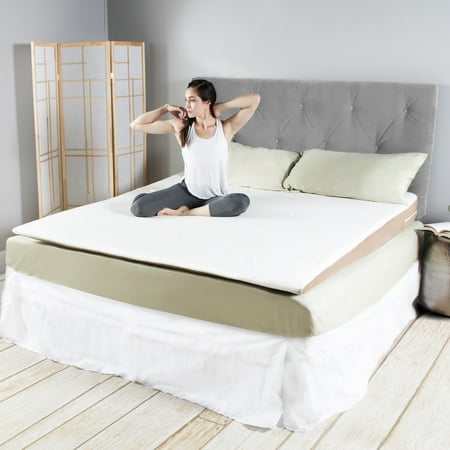 When you think of the best memory foam mattress you probably think of a '90s infomercial with someone jumping up and down on one side of the bed while their partner and a full glass of wine sit undisturbed on the other. Memory foam took the mattress game by storm three decades ago, and while the material might feel a bit dated today, that once ubiquitous quicksand-like squishiness ousted by the mattress-in-a-box revolution, the truth is that memory foam never really left us at all. These mattresses just evolved—and they got a lot better.
The problem with the early generations of memory foam mattresses, with their vague promise of space-ready technology (for some reason, the ads always mentioned NASA), was that they were filled with a lot of soft and totally unsupportive junk. Your first night of sleep would be excellent. Sinking into the top of the mattress made you feel enveloped in gooey comfort. But when you woke up, the impression of your sleeping body remained. After a couple of months, that impression started to become a permanent trench. It was a recipe for back pain and bad spinal alignment. Before long, early memory foam converts were longing for their old innerspring mattresses.
It took a while, but the memory foam mattresses of 2021 are far superior. Whether you're a side sleeper, stomach sleeper, or back sleeper, one of the best memory foam beds can offer you that oh-so-subtle sink and pressure relief which makes them so lovely to sleep on, without any of the longevity issues that plagued their predecessors. Memory foam has gotten so good, in fact, that it's increasingly being deployed in smaller strategic doses in "hybrid" mattresses. It helps make sure these mattress both have superlative motion isolation—so that your partner won't be bothered by the way you fight the bear in your sleep—and comfort, without sacrificing support.
Over the past few years, our reviewers have tried over 30 different mattresses from the internet, almost all of which included at least a layer or two of memory foam. Our overall favorites tend to employ the hybrid construction, which means they have an innerspring base and a super soft memory foam top. Chances are, if you think you're interested in a soft memory foam bed, this supportive combo is actually what you'll prefer beyond a 100-night trial period, especially in the sub-$500 price range. But if you're set on an all-foam mattress, the best ones are relatively thick and usually constructed from a few different layers of foam. Make sure you get something with enough density as well, otherwise you'll quickly find yourself making contact with your bed frame. The best memory foam mattresses, rest assured, will never bottom out.